There is a free book involved. Details below!
I try very hard to live my life as honestly as I can. There are, of course, many mistakes that I make, many cruelties that I inflict, many acts of kindness that I knowingly avoid. In spite of this, I have only a few consistent regrets, only a few
constant
sources of guilt. One of which is that I am not vegan.
My view on vegetarianism is simple and straightforward: eating meat is morally wrong.
Obviously
factory farmed meats are reprehensible, but that says nothing about the actual act of killing for food. And I consider the act of killing for food to be immoral. Essentially it comes down to the right of one being to end the life of another and the reasons for doing so.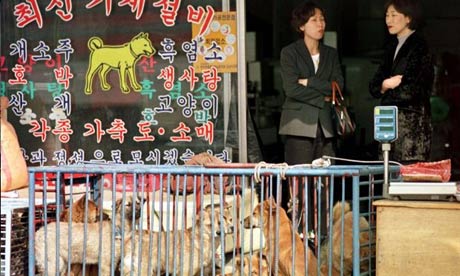 In America we consider the thought of eating dogs reprehensible, yet there is no real distinction between dogs and other animals. Any perceived difference between dogs and pigs is arbitrary and cultural. Pigs are at least as smart as dogs, and have social and family structures. And yet even the most "I LOVE BACON" carnivore would not consider eating even the stupidest dog.
Is this an emotional argument? I confess that a part of it certainly is, although there is compassion and logic to it as well. And as I follow the logic, I can't find a cause to call the consumption of animal products
(milk, eggs, honey)
immoral. Now, as with meat, factory-style dairy farms are clearly evil, but if I can be sure that the milk and eggs come from ethically run dairy farms then I will eat cheese without guilt. I even like the idea of raising my own chickens some day.
So this is my dilemma. It has an easy answer, and that is exactly what makes me feel so terrible about it: I shouldn't eat dairy products unless I know where they came from. But
pizza!
And cheese on sandwiches! And pastries! And breakfasts pretty much anywhere! This requires sacrifice and a disruption of my life. I am aware of the hypocrisy involved. I feel better - both spiritually and physically - when I eat only vegan foods. Eventually I believe that my guilt will overtake me and I will be a responsible, moral consumer.
My wife has pointed out on numerous occasions that the more I learn, the worse I feel. This is an undeniable fact. I would be happier not to know where meat comes from. Now that I do, not only am I unable to eat meat, but I am unable to even view a hamburger without feeling an immense sadness. As I mentioned above, my diet will eventually come in line with my morals, but what next? There is seemingly no end to the products produced through exploitation. Electronics, clothes, food, energy - all of these conveniences and necessities come at the expense of someone. Where do we draw the line? Maybe some lines cannot be reasonably drawn today, but that does not mean that we shouldn't try, right?
Free book details:
I have several copies of
Jonathan Safran Foer's Eating Animals
. It is a book that I highly recommend. It is not preachy or difficult to read. He presents the arguments for vegetarianism/veganism in a very simple and compelling manner. I am happy to give copies of this book away to anyone who is interested. Just
email
me and tell me your address and I will send you a copy
(for as long as I have copies available)
. This is not a publicity stunt for me or the publisher. I simply purchased a number of copies and am giving them away to interested and curious parties.